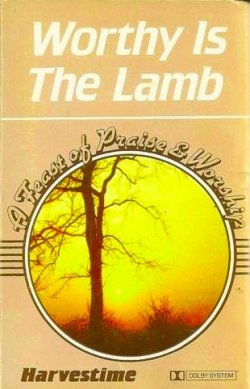 Worthy is the Lamb

A Feast of Praise and Worship - Recorded Live at a Special Praise Gathering, Christ for the Nations Institute, Dallas, 1983
Probably the most varied in terms of content, this album really is a veritable feast of praise and worship. There's so much on this one that it's hard to pick out highlights! From the brilliant full-blooded praise in the first quarter of the album, right through to the uplifting and inspirational 'Worthy O Worthy' and 'Hallelujah, Lamb upon the Throne' (often mistakenly sung together as two verses of the same song), and then the awesome title track 'Worthy is The Lamb', there's really something for everyone here.
There's also the cleverly introduced Latin beat of 'He that dwelleth in the secret place of the Most High', the gentle 'Oh how He loves you and me', the sensitive piano intro for 'Who shall separate us', the Dales classics 'The Steadfast Love of the Lord never ceases' and 'Lord You are more precious than silver'. Lovely songs from a wonderful era of worship, with brilliant instrumental work and vocals, but all the time without being contrived or scripted, this is a real gem of an album.
Status: Recorded and processed - music preserved!

Track List
Ah Lord God
On my journey home
Joel 2
They rush on the city
The Lord reigns
The Lord your God is in your midst
The Church of God is moving
I hear the sound of the army of the Lord
It's done, yes it's done
I am blessed
He that dwelleth in the secret place of the Most High
The Righteous are bold as a lion
You are the words and the music
The Lord God is a Sun and Shield
He poured in the oil and the wine
The steadfast love of the Lord never ceases
Who shall separate us from the Love of Christ
Lord You are more precious than silver
Oh how he loves you and me
Worthy O worthy are You Lord
Hallejujah, Lamb upon the throne
Worthy is The Lamb