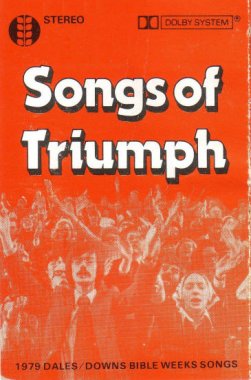 Songs of Triumph - Worship from Dales Bible Week, 1979
Once again with a strong piano lead, and the lovely Hammond organ too, this tape once again captures the gritty, real worship style that characterised the Dales Bible Week. This album comes from the time 'Back in the day', when worship songs were so much simpler and more intimate.....songs that could be used easily by people who had a sincere desire to worship God, without having to worry about complex melodies or rhythm patterns. Songs that could be used simply as 'vehicles' to carry the worshippers into God's presence. Songs such as 'Jesus, come closer now to me' and 'Jesus Your Love has melted my heart'. Songs such as Brent Chambers' majestic 'Be Exalted O God'....these songs and others from this period formed the definitive backbone of Charismatic worship in churches all across the land. This is an historic album for all these reasons and more.
Status: Recorded and processed - music preserved!

Track List
O For a Thousand Tongues
I hear the sound of rustling
I will rejoice in You and be glad
Thou art my God (and I will praise Thee)
Within the veil
Do not strive
Worthy art Thou, O Lord our God
Jesus, come closer now to me
Victory is on our lips and in our lives
Unto Thee O Lord
You shall go out with joy
Jesus, Your Love has melted my heart
Seek ye the Lord all ye people
I want to worship the Lord with all of my heart
Be exalted O God
How lovely is Thy dwelling place
Worthy is the Lamb
I exalt Thee