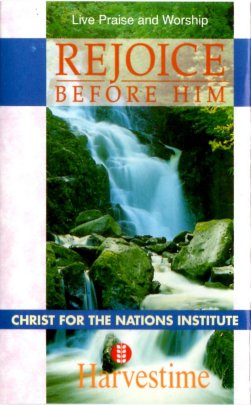 Rejoice Before Him

A Feast of Praise and Worship - Recorded Live at a Special Praise Gathering, Christ for the Nations Institute, Dallas, 1991
Like 'Hallelujah to the King', I didn't even know that this tape existed until only a couple of months before I wrote this webpage. The recordings were given to me by a very kind visitor to the site who shared my passion for preserving this music.
So this is yet another classic recording from the same stable as the other CFNI tapes. There are some lovely songs on this one; my personal favourites are the beautiful 'I sing praises to Your Name' and 'Worshipping You', and the majestic 'God rules over the Nations'.
There's the usual very high standard instrumental work on this album. These guys have the ability to be both well-rehearsed and spontaneous at the same time; this is a key capability in charismatic worship, and is especially valuable in a large meeting. They make the spontaneous seem seamless, which is harder to do than it sounds, but it's done so well that they make it look easy. Kudos, then.
Status: A clear recording has been kindly donated to the project - music preserved!

Track List
Praise God in His Sanctuary
I will clap my hands
We've gathered to offer
You alone are God
I praise You, Lamb of God
I sing praises
Therefore God has exalted Him
I will enter His gates
For the Earth shall be filled
From the rising of the Sun
Worshipping You
You are the glory
God rules over the nations
To Him Who sits on the throne
Make my life an offering