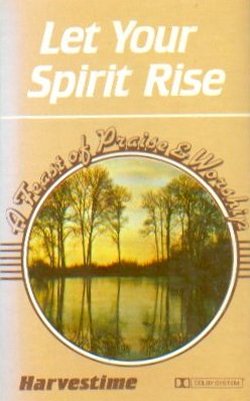 Let Your Spirit Rise

A Feast of Praise and Worship - Recorded Live at a Special Praise Gathering, Christ for the Nations Institute, Dallas, 1983
Probably the best of the early Dallas tapes, this album is a real belter. Like its sister tape released at the same time in 1983,
'Worthy is the Lamb'
, there's so much on this one that it's hard to pick out highlights! The entire first half of the album is fast-moving, exuberant praise, then there's the majestic 'Thou art worthy Great Jehovah', segueing via 'I will Crown You Lord' into the beautifully rendered 'As the Deer' - listen especially to the magnificent piano work on that track - and then the most awesome song on the album, the magnificent and definitive 'When I look into Your Holiness'. Then, unbelievably, the worship goes even higher with the breathtaking piano intro to 'Holy, Holy, Holy, Lord' and the song itself. The piano work on this album is especially outstanding, and as a pianist myself, I can really appreciate this guy's talent and anointing.
Status: Recorded and processed - music preserved!

Track List
We bring the sacrifice of praise
Sing Praises unto God
Praise Him
In Him we live and move
Ah Lord God
Let God Arise
Ah Lord God (Reprise)
Let God Arise (Reprise)
Never, Never, Never
Let Your Spirit Rise
Prayer
Let Your Spirit Rise (Reprise)
For this purpose was the Son of God manifest
Thou art Worthy Great Jehovah
I will crown You Lord
As the deer
When I look into your holiness
Holy Holy Hold Lord
Vocal bridge
There's a great and mighty army