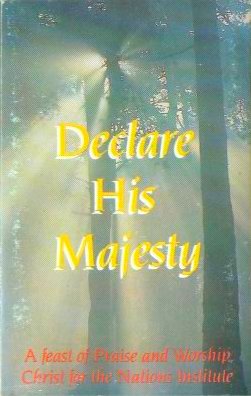 Declare His Majesty

A Feast of Praise and Worship - Recorded Live at a Special Praise Gathering, Christ for the Nations Institute, Dallas, 1989
Another worship extravaganza from the Christ for the Nations Institute, Dallas, Texas. There's the usual bright, up-beat opening song medley with clean, competent instrumentals, which flow into the heavenly piano and instrumental introduction of Malcolm DuPlessis' 'We Declare Your Majesty', a song I was always surprised was not more popular (i.e. widely sung) than it actually was.
There's also the superb intro to 'You are exalted, Lord' with its 'slap-bass' riff into a strong three-chord piano lead-up before the vocals, the majestic 'High and lifted up' and the solid declaration of 'Forever, O Lord' (Your Word is settled in Heaven) introduced by an inspirational scripture and prayer combination - absolutely brilliant. This whole album is absolutely brilliant, in fact....
Status: Recorded and processed - music preserved!

Track List
Mighty is our God
Great and mighty is He
Lord I choose to worship You
I've found a new life
Ephesians 6 and Prayer
Lord we stand before You now
We declare Your Majesty
Hallowed be Thy Name
We see Jesus
For the Lord is our defence
What a mighty God we serve
You are a chosen generation
Arise and sing
You are exalted Lord
High and lifted up
He is the image of the unseen God
Prayer
Forever O Lord