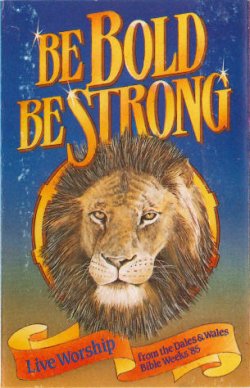 Be Bold, Be Strong

Live Worship from the Dales & Wales Bible Weeks, 1985
This tape is simply breathtaking, there is no other word for it. Vast, towering harmonies and instrumentals, full-on sound, full-on worship. The experience and maturity of the worship band is readily apparent due to their tight timing and harmonies, and yet still the spontaneity comes through. This is a top-grade worship experience and even now, after all these years, this kind of thing is unsurpassed in the recorded live worship genre. It doesn't get any better than this. Sheer brilliance!
Status: Recorded and processed - music preserved!

Track List
Thine O Lord
Ascribe Greatness
At Your feet we fall
You are worthy
Holy Holy Holy Lord
I hear the sound of rustling
Praise be to You O Lord
Praise to the King
Your Kingdom is an everlasting Kingdom
Be Bold, be strong
In Him we live and move
I have made a covenant
Jesus we enthrone You
Salvation belongs to our God
I have come to give you life (Prophetic Song by Mark Williams)
You O Lord are worthy
Almighty God
I love You my Lord
Behold the Lamb of God